Top 10 Free Birthday Meals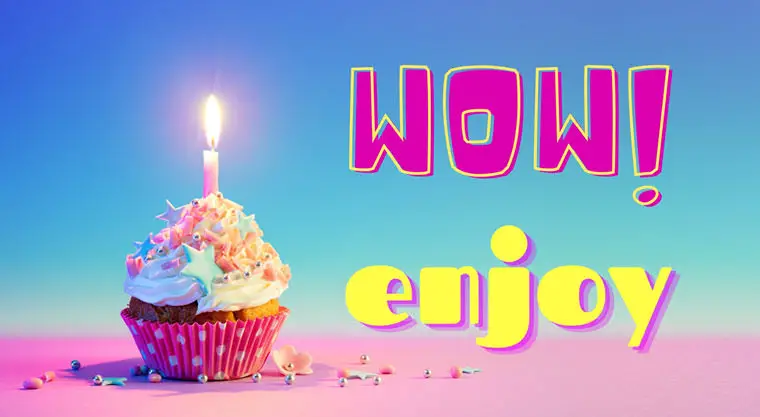 Free Birthday Food is easy to score at hundreds of restaurant chains. You'll need to sign up for restaurant email clubs, reward programs and sometimes download their apps. It's simple. Sign up, then wait for the ecoupons to come in your email or appear in the apps. It's rare now that birthday rewards are only usable on one day. Most are valid for at least 7 days, many let you redeem for 30 days. That's 30 days of free drinks, complimentary appetizers, desserts, coffees, and free meals. Really!
This article is limited to the ten best free birthday meals. Each one is a breakfast, lunch or dinner. These are the ones most searched for on the internet and chosen most often from the full lists on FavoriteCandle. The offers from Golden Corral, Applebees and Dennys have been on our top 10 list for more than 10 years. When you sign up for a birthday deal, you will also get a sign up bonus food offer that can be used immediately. It will arrive as an email coupon the day after you enroll or appear in the restaurant's app on your phone.
Have fun and enjoy our top 10. When you're ready for more, see the complete list of free birthday food in your zipcode with our online birthday deal finder.
Here are our top 10. Enjoy!
1. Applebee's
Applebee's has been on our top 10 list for over a decade. You'll get a FREE Appetizer the day after you register for Club Applebee's and have 30 days to use it. The birthday deal is a FREE Dessert coupon valid 7 days before and 21 days after your birthday. The birthday coupon you receive may differ. It depends where your Applebee's is. Some of our readers report getting a free entrée BOGO deal. On request, you'll enjoy a performance of one of Applebee's birthday songs while you dine. In 2023 Applebee's had over 1,500 locations in the US.
2. Denny's
Sign up for the Denny's Rewards program and you'll get a coupon for a FREE Birthday Slam Breakfast. Use it at over 1,700 Denny's locations nationwide. Why is Denny's Birthday Slam free birthday food such a prize catch? The Birthday Slam is a full breakfast that includes pancakes, eggs, and your choice of bacon or sausage. No purchase is necessary to redeem the coupon. It's totally free. You can use the coupon at your convenience on any day during your birthday month.
Denny's sign-up bonus: Receive 20% off your entire guest check when you sign up for the Denny's Rewards program– the first of many perks that will soon be headed to your inbox!
Sign up for Firehouse Rewards before your birthday to receive a FREE Medium Sub reward. You can pick up your sub on your birthday or within the following 6 days. There are no strings attached to this offer. Walk-in, pick out your medium sub and you're done. No purchase is necessary! Firehouse Subs has locations in 48 states. It's likely that one is near you.
Sign-up bonus: Sign up today and receive a FREE Large Drink with sub purchase. Coupon valid for 7 days.
4. Jersey Mike's
Sign up for MyMikes email list to get birthday and other rewards. No minimum purchase is required! Celebrate your big day with a FREE Jersey Mike's Sub AND a FREE 22 oz. Drink. The only hitch: the offer is only valid on your birthday and you'll need to present photo ID when redeeming the coupon to claim your reward. Jersey Mike's is growing like a weed and has more than 2,500 locations in the US as of March 2023. There are 268 locations coming soon.
5. Jimmy John's
What does Jimmy John's give you for your birthday? Sign up for Freaky Fast Rewards and you'll get a FREE 8″ Sandwich after placing your first order. The deal includes any 8″ Favorite, Original, or Plain Slim for free! Call this a DIY birthday deal, no wait required. You'll receive this offer instantly in your account when you sign up for Freaky Fast Rewards. You can give it to yourself for your birthday or any occasion you desire. Jimmy John's has locations in 44 states with 2,803 locations in 2023. They are one of the fastest growing restaurant chains in the USA. The company offers a variety of sandwiches, including the #1 The Pepe, #2 Big John, #3 Totally Tuna, and #4 Turkey Tom.
6. Buffalo Wild Wings
Join the Blazin' Rewards program at BWW and they'll send a birthday food certificate for a FREE Snack Size Wings. It's valid the entire month of your birthday and no purchase is required. Sign up online or download the Blazin' Rewards App at the Apple Store or Google Play. Enjoy your wings at over 1,200 Buffalo Wild Wings locations.
7. Texas Roadhouse
My personal favorite casual restaurant. Great comfort food, atmosphere and fun. No wonder Texas Roadhouse can be found in all states except Hawaii. Join the VIP Club at Texas Roadhouse for a birthday FREE Appetizer or Sidekick of Ribs with an entree purchase. The deal is good 5 days before your birthday and 9 days after.
Sign-up bonus: A FREE Appetizer choose one: Cactus Blossom, Tater Skins, Cheese Fries, Fried Pickles or Rattlesnake Bites with entree purchase. Coupon valid for 14 days.
8. Marco's Pizza
Marco's Email Club members receive a birthday coupon for a FREE Medium One Topping Pizza, BOGO. You can have the pizza 7 days before and up to 7 days after your birthday. Marco's Pizza is a fast growth chain, now in 35 states at 1,154 locations as of February 2023.
Sign-up bonus: A FREE CheezyBread with purchase of any pizza at regular menu price. Deal valid for 14 days
9. Golden Corral
Download the Gold Corral Rewards App and get 5$ OFF your next purchase of $25 just for signing up. Golden Corral also sends you a birthday coupon for a FREE Buffet (BOGO) valid for 7 days before your birthday, on your birthday and 14 days after. Why is the Golden Corral birthday special deal such a prize catch? The birthday coupon is valid for 3 full weeks. It's for an all-you-can-eat breakfast, lunch or dinner buffet that includes drinks and desserts. Golden Corral's endless dinner buffet features an enormous variety of 15 proteins including grilled to-order sirloin steaks, pork, seafood, shrimp, and chicken.
Alas, Golden Corral is shrinking, the pandemic hit the buffet genre rather hard. You'll still find Golden Corral at 399 locations across America.
10. Culvers
Those of you that live in the southeast, midwest and west are lucky to have Culvers! Sign up for MyCulver's, then immediately go to your account profile page and enter your birthday. Culver's sends you a coupon overnight for a FREE Value Basket, valid for 14 days. Choose any ButterBurger or other favorite, pick the perfect classic side and a regular drink. The Classic Side selections are Crinkle Cut Fries, Cole Slaw, Steamed Broccoli, Mashed Potatoes, and Gravy. You'll get another coupon on your birthday for a FREE One-Scoop Sundae. Choose Vanilla, Chocolate or Flavor of the Day and add from a huge list of Mix-Ins and Toppings.
You'll find Culver's in 26 states at 899 locations.
Now, after you've had lunch or dinner, try out our Top 10 Free Birthday Desserts.